Register Now for a Quality Education
We will be in our new building on Fortson Road for the upcoming year!  Go ahead and register your student now and save on the Registration Fee.  You may pay via cash, check or Money Order.  OR, you may now pay the fee online by clicking the blue button below.
Click the button below to pay your discounted early registration online with your credit or debit card.
Open Enrollment at Any Time | Call for Information  |  706.221.7352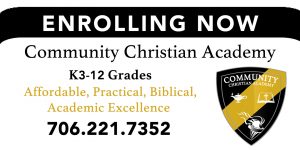 CCA has begun our 36th year of academic excellence and quality education on August 6!  We are excited about another great year of helping families provide a quality education for their children, that is biblically sound and in a safe environment.  Due to CDC COVID restrictions, enrollment is limited so call today and secure your child's place.
Social Distancing Guidelines will be observed.  Each student's work area will be sanitized at the end of each day's work, and each student will be partitioned a safe distance from the next student.  Teachers will wear a mask when in direct contact with the individual student's work area.  Parents will make the decision concerning their own children wearing masks.
Call 706.568.7357 today for more information.